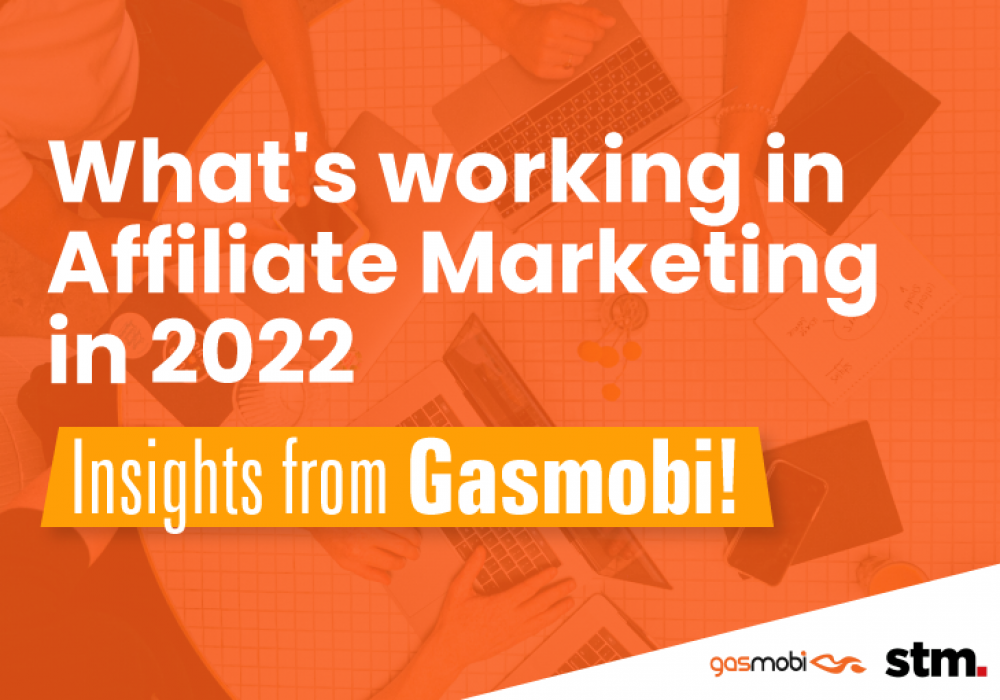 WHAT'S WORKING IN AFFILIATE MARKETING IN 2022?
Gasmobi & STM talk
Every New Affiliate Year starts with the results of the previous one and trends for the upcoming year. And the one who consolidates all this every year has been STM Forum.
Gasmobi participated as well and shared the main insights for 2022. Victor Duran, COO and Co-founder of Gasmobi, highlighted the main focus and current trends that Gasmobi follows.
Have a read!
1. Rising and declining offer verticals? Did anything die out completely? Any brand new verticals in the game?
White-hat lead generation campaigns as a whole are working just great for the Network, changing from sweepstakes/raffles and subscriptions to "clean" campaigns have just been the best decision for 2021, the top-performing verticals now are insurance, finance, mortgage, home improvement and subventions. We know for sure that sticking to the strategy of white-hat verticals will bring more benefits to our affiliates in the short and long term and will provide stability in their campaigns.
"Die out"
Definitely CC Submit vertical is in decline more than ever, it does not represent the major percentage of invoicing as it did at some point in the past, this is mainly due to the new 3D-secure implementation, also more restrictions on the merchant side as blocking sms traffic, and if you add facebook restrictions in the mix as well, it makes total sense that the whole vertical is in decline.
2. Lots of affiliates have made or are making the shift to whitehat. Does your network have whitehat offers? Anything that can be run safely on Facebook without the need to cloak or getting a lot of accounts banned?
As we mentioned before, our main focus now is on white-hat offers. A lot of affiliates were complaining about the difficulties of running black-hat campaigns in clean traffic sources like social and google so we started doing tests on insurance/loans/Home improvement campaigns in the US and FR in early 2021 and it brought amazing results; So our strategy was to replicate this with all our affiliates and it worked for most of them as well.
3. Offer recommendations (geo+vertical) for newbie affiliates? What about for intermediate/expert affiliates?
We still have a bunch of decent Sweepstakes and LATAM Leadgen offers for newbies with pop/push traffic.
For emailers, education has always been a good option. What comes for high-level media buyers? Education, Finance, Insurances - could be a good choice for experienced Facebook'ers, TikTok'ers, emailers. And for PUSH - LATAM leadgen (bank products, test drives, TelCo, Insurances) is always evergreen!
4. How does your network help affiliates succeed? e.g. Offer creatives (images/videos/UCG), proven pre-landers, exclusive/custom offers
Most of the offers for email traffic come with html templates. We also provide recommended banners/prelanders, but sometimes it's mandatory to use advertisers' creatives. This part is super strict as we want to grow the account and build a trustful relationship with Advertisers. At the same time, in the last quarter of 2021 we made great deals with different advertisers to host the landing pages ourselves and this allowed us to offer our affiliates exclusive angles that turn into better conversion rates.
5. Can you share some details on what traffic sources or types are working the best with your offers? Which ones should affiliates focus on?
Our main traffic sources bringing quality to the network are Email, Native, Social and Push, here are the verticals which work best for each:
Subventions / Home Improvement offers (FR) - Email
Auto / Med insurances (US) - Native
Survival products (Nordic geos) - Facebook
Financial campaigns (Brazil) - Push traffic
Affiliates with more experience can for sure get good results on Native, Google and Facebook, and then for newbies it's easier to test with email databases and Push.
6. How has covid affected your business?
Gasmobi survived Covid-19, 20 and 21. The online business, in general, was really stable and even grew during the pandemic and it was the same for Gasmobi thankfully, even though such hard times for others. We are happy to have an amazing dedicated team and partners, which is the main reason to grow in 2022!
Lastly: Does your network have any special/exclusive discounts or bonuses (e.g. signup bonus) you'd like to offer to our readers?

Gasmobi Provides an in-house Loyalty Program based on revenue generated during three months. It applies to new and existing partners.
Gasmobi & STM Forum