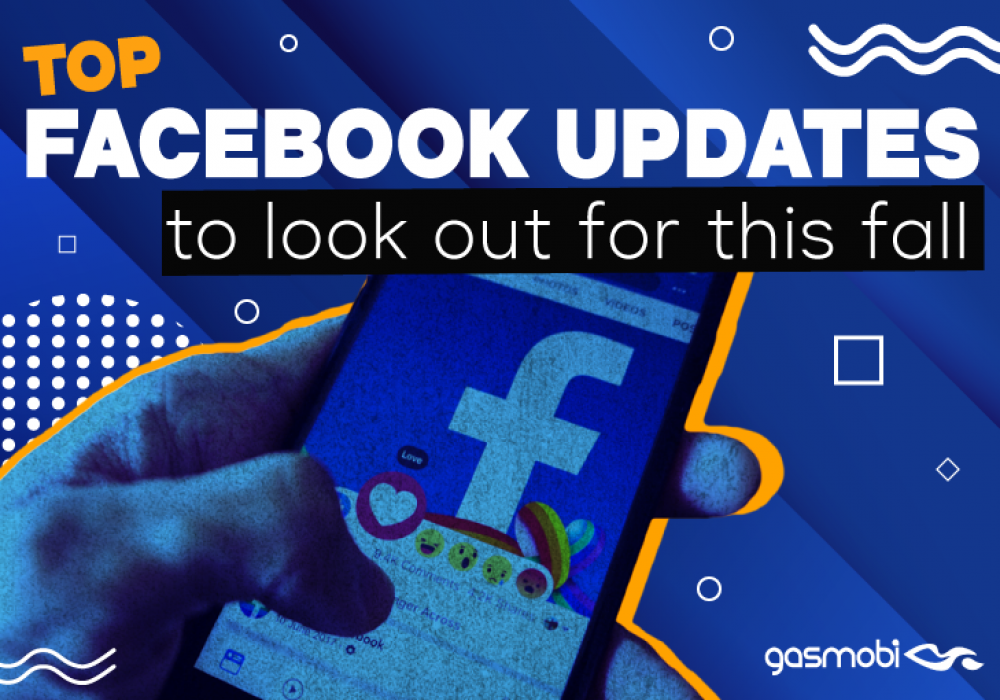 Top Facebook Updates to Look Out For This Fall (2021)
Top Facebook Updates You Need to Know About (October)
October was a pretty crazy month for Facebook to say the least. With the six hour power outage, Yahoo reports that Mark Zuckerberg lost a whopping seven billion dollars due to ads not being able to deliver, no in-app purchases, and inability to use Facebook's services.
But hey, let's look at the sunny side of things! Facebook is rolling out lots of exciting new updates and features, including some really cool Instagram features we can't wait to tell you about.
So let's jump in!
New Pre-Estimate Changes for Facebook Ads
In the past, Facebook would present you with the number of people it believed your ad would reach. Say 100.000. Now with the display changes, you'll be able to see an estimated audience range. Say 100.000- 200.000.
What will this do, exactly? We're glad you asked! The change is actually pretty simple. It won't affect the ad campaign itself. Instead, it's meant to give you a frame of reference for what your audience could look like.
Facebook Updates the Way Users Get Counted
Similar to the pre-estimate changes, user accounts will be counted differently. Before, Facebook counted accounts using a certain email or phone number as a single user, even if those accounts weren't technically connected.
Now, if those user accounts are not connected, Facebook has decided to count them as separate accounts for ad and notification purposes. Obviously, if your accounts are connected, then they will be considered a single account.
What does this mean for you as an affiliate marketer? You might see some changes in your campaign planning estimates, your performance reporting, and a spike in your estimated audience size because many accounts will be counted twice.
Facebook Reels Are Here to Stay
After seeing Instagram's raving success from the Tik-Tok style vertical video feed called Reels, Facebook has decided to try the same thing out for Facebook.
Reels are an excellent way to engage with new audiences, but an even better way to get discovered. Facebook has decided to incorporate Reels into their main feed, so users can discover new accounts while keeping up with their current ones.
Remember! Reels are available as public for anyone over the age of eighteen. Keep that in mind when making content for your audience.
Instagram's New Instagram Video
IGTV and Instagram feed videos are merging! Now, your profile will have a Video tab, so your video content is all in one place, making it easier for your users to find your content.
Here's how the format has changed:
Video previews will be sixty seconds long. But if they have ads, the preview will be fifteen seconds.
Videos can be re-shared on Instagram Stories, direct messages, and Facebook.
You can edit your videos by trimming it, adding filters, and tagging people and locations.
IGTV ads will be considered in-stream video ads.
Feed post and video insights will be combined into a single dashboard.
With that said, one thing hasn't changed— you can still upload videos from your camera roll to create new posts!
Direct Instagram Customers to Whatsapp
Instagram is introducing a sweet new feature that will allow potential customers to talk to you directly with their new Whatsapp CTA Button.
Here's how it works— when a potential customer engages with your post, they go to your profile. From there, they can click the Whatsapp CTA Button, which will directly link them from Instagram to Whatsapp.
This will give your customers a comfortable experience that makes them feel heard. It'll be great for you too because it'll lead to more conversions, since most people prefer talking over Whatsapp instead of Instagram Direct.
How do you do it? Simple! Add your business's Whatsapp number to your Instagram account in settings. Presto! You're ready to get those sales.
Let's review
Facebook might have stumbled at the beginning of the month with the outage, but they're coming back strong with these great new features and updates.
Let's see how Facebook Reels and that new CTA button takes off in the next coming months!
Top Facebook Updates You Need to Know About (September)
With 2021 coming to a close, Facebook is vamping up its features with a whopping set of new updates. Among the new updates, Facebook has souped up its Messenger Business Suite, and personalization features.
Ready to hear what else is coming? Check out our comprehensive list below!
New Ad Placements in the Instagram Shop Tab
You might know about Facebook's ad launch in the Instagram Explore section, but now by putting ads in the Shop section, ads have a greater success rate because users are actively searching for products to buy.
Another great advantage of putting your ad in this high value location is getting an even higher amount of exposure than you would with the Explore page or with Stories. Placing your ads in the Shop tab will open your products to a new market that will only make your business more successful.
According to Instagram, this option is available in countries where Instagram Shop is available. Stay on the look out for this feature if you want new sources of traffic for your business!
Optimization Updates for Facebook Business Suite
With the growing success of many businesses, Facebook has opted in to simplifying features, specifically automation, to make Business Suite more user-friendly. Here's some a few of the most note-worthy features:
The split-testing feature will create various versions of your business's post to determine which would be most successful with your target audience.
The file manager allows you to create, manage, and post your content all inside the Business Suite, providing a more seamless experience.
The unified inbox lets you send remarketing emails while managing other emails.
These are some pretty exciting new features to look out for, because they'll help generate more organic traffic, which will allow businesses to optimize their content accordingly.
Businesses and Customers Get Connected with Messenger
Messenger has been a pivotal part for online businesses. These new updates are about to make
the relationship between businesses and their audiences a whole lot closer. Here's why:
Now with Messenger Ads, you can select an option that allows you to interact with potential customers across all messaging platforms; Instagram, Facebook Messenger, and Whatsapp. On top of that, Facebook even gives you a suggestion on how to begin your conversation in the chat.
The new click-to-chat feature lets brands and content creators link their Whatsapp to their Instagram profile, so you can have a secure conversation with your followers.
This feature is still in testing, but we have high hopes for it! A new Page CTA button will allow users to request quotes via Messenger. All users will have to do is answer four to five short and easy questions to give brands a better idea of how to make an appropriate quote.
This next one is still pretty under wraps, but the word on the street is Instagram is testing organic and paid features which would help brands and content creators find and qualify leads.
Say Hello to Facebook Reels!
Like Instagram, Facebook is about to get Reels! Similar to the seamless feed of TikTok, Reels will hopefully punch up the organic content creation on Facebook and engage users in a new way.
This will be a great way to whip Facebook back into shape, as it has been in decline among younger users compared to its sister platforms.
Facebook Reels will be available to US users this month. It is already available worldwide!
The Mysterious Facebook Work Accounts
We don't know much about it, but Facebook is working on a new feature called "work accounts".
One of its what many are calling a life saving feature is its separate sign in credentials. That's right, social media managers, you no longer have to use your personal account to log in to your business's social media account! With Facebook Work Accounts, you can keep your business and pleasure separate.
According to Facebook, by 2022, our lives are about to get a whole lot easier.
Let's Review
If you're anything like us, your head is probably spinning with all these new updates! Let's take a moment to review all these amazing features:
New Ad Placements in Instagram Shop, which will give your brand high exposure and authority.
Improved Messenger Ads will help users and brands get connected; arguably the most exciting feature being the Request a Quote button.
Something big is coming for social media managers with these new Work Accounts!