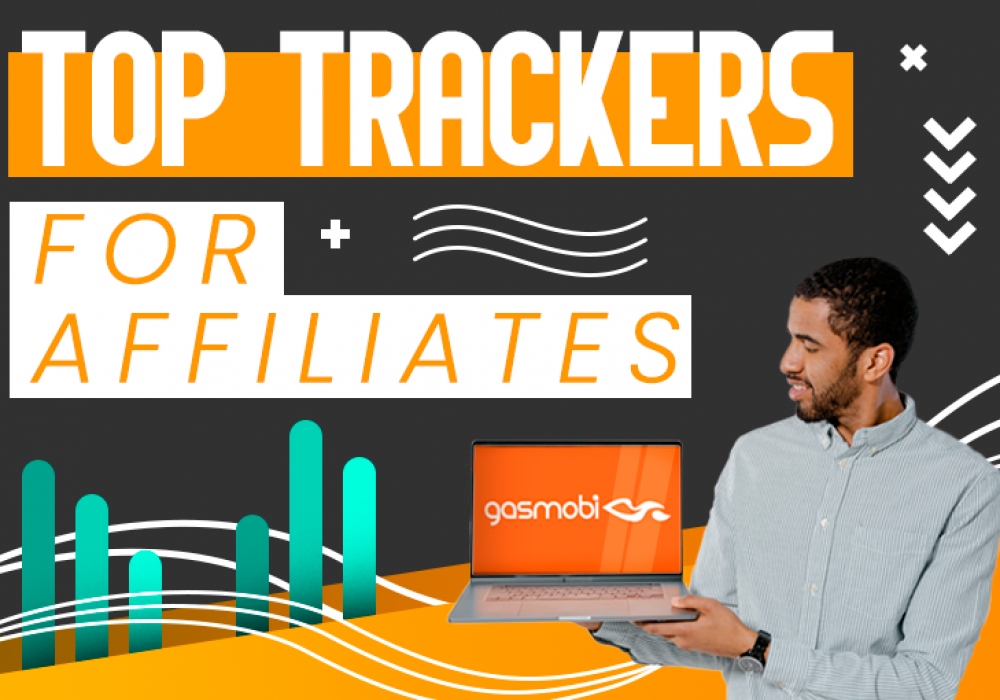 The Top Affiliate Tracking Platforms Currently Around 
Trusted trackers in 2022
While 10-12 years ago, it was feasible to get a profitable campaign by only opening a few campaigns with different targeting options selected and just seeing which one performs better, the times have changed entirely. If you want to become a successful affiliate marketer these days, it's no surprise you absolutely must use a tracking platform. The name of the game is to track, analyze, and optimize. Without these steps, your campaign has close to zero chance of becoming profitable.
And while initially there were but a few quality trackers around a decade ago, such as iMobitrax, Prosper 202, and CPV Lab, the field has seen a drastic increase in comprehensive and advanced tracking platforms catering to every possible use that an affiliate marketer could have.
Here are some of the best tracking platforms around. Gasmobi platform is integrated with all of them which makes the campaign set up smoother and faster.
1 . AdsBridge
AdsBridge is one of the biggest tracking platforms on the market currently, and it has several advantages over its competitors. Gasmobi network is integrated with the tracker's templates, so the campaign could be set up with a couple of clicks.
This is also the tracking software that has gained the most popularity among the biggest affiliate marketers and marketing agencies. Some affiliate networks put their entire catalogue of offers on this platform alone. It's the choice of the big players.
AdsBridge top features which will help you to increase your profits and launch your Аd campaigns:
• More than 20 parameters for extra accurate targeting;
• In-built visuall and HTML landing page editor with ready-made templates;
• Tracking without redirects for Facebook and Google AdWords;
• Track all events: from clicks to impressions (but only pay for visits);
• Highly accurate anti-fraud detector and bot filter;
• Extensively detailed real-time statistics report (More than fifty filter parameters and seven sections for each campaign element);
• Easy integration of AdsBridge tracking scripts on platforms like TikTok, BigCommers, Shopify, and others.
Pricing ranges from $89/mo for the Professional package to $700/mo for the Enterprise package. You can also request an Exclusive offer if you are truly scaling things and running traffic with Gamobi.
This is definitely the best tracking solution for the more advanced affiliate marketers who truly need all of the advanced features that a tracker could have, all while having a blazing fast interface and instantaneous report generation.
2. Binom
Another recommended tracking solution is Binom. There is a special deal for Gasmobi affiliates - a 40% discount for the first month.
The tracking platform initially launched as a private beta and was solely used by the internal affiliate community. But after a while, it was launched to the public, and a variety of new functionalities were added, and some others tweaked so it could also be used for CPA marketing. The main advantages of Binom are its speed of click redirection and the speed at which you can generate reports.

Integration and Capabilities
Connecting via an API to have access to all of the functions and reports is a breeze. Binom uses JSON format to send and receive data.
Reports
Reports are fundamental for any affiliate of media buyer who wants to optimize wisely and get a larger profit.
Binom's reports don't disappoint. It's a pleasure to work with this functionality because they are generated almost instantly.
Excellent Support
A professional tool without high-quality and quick support is a failure. Imagine a traffic issue caused by a technical problem – you won't have time to wait for a reply to your ticket or email.
The guys from Binom understand this all too well. That's why their support works 24/7 regardless of what license you have. They are ready to help with any question, ranging from installing the tracker to installing the hosting (yes, that too) or adding new domains, landing pages, etc.
Affordable Pricing:
The price is affordable and attractive. Forget about paying for used traffic or additional users, domains, and support. It's all included in the package, and if you pay for a year, your monthly plan will be $69/Mo compared to $99/Mo otherwise. And don't miss a 40% discount for Gasmobi publishers!
3. Funnel Flux
This is also one of the most well-received self-hosted tracking platforms around.
The functionality of the platform allows you to create, optimize and adjust campaigns using a purely visual interface, not requiring you to have any coding skills on your part!
Stats: The Quality for Complex Flow
The stats provided by this tracker are thoroughly amazing.
First, you've got the ability to track GEOs, Carriers, IPs, and Operating Systems, among others.
In total, you've got about 60 KPIs you can use.
You have access to various Custom tracking fields with built-in statistical significance analysis.
It also features "The Powerful Statistics Engine" and "Funnel Heatmaps" that allow you to easily find your gold mines or bottlenecks in minutes, all in a visually appealing interface.
The stats are constantly updated and can work with Affiliate and direct Vendor funnels.
What they shine the most at are their complex flow options that are a perfect fit for tracking every step in niches such as e-commerce, or credit/loan type of offers, offering very intricate flow settings.

Pricing:
The pricing is thoroughly similar for all.
Self-hosted license costing $99. Where you have to get yourself a dedicated server to install it on.
FunnelFlux Pro, which is a hosted solution with a 1 M visitor limit is also $99
Lander Hosting is a plan meant for hosting landing pages only and will bring you back just $49 per month.
Gasmobi publisher? Use a 50% discount for the 1st month! Find Gasmobi in templates, set up multi-step campaigns, build funnels using our visual editor and track your marketing campaigns end-to-end, across platforms and with utmost precision.
4. Voluum
The one-stop shop for most affiliate marketers, Voluum has truly become a staple when it comes to tracking interfaces, arguably being the most popular of them all. Voluum allows you to track a wide variety of ad formats and every imaginable traffic source.
It keeps you up-to-date with the latest metrics on your campaigns while having an aesthetically pleasing and quite intuitive interface.
It allows you to track all of your advertising campaigns, find and analyze your data to find actionable insights and know-how to optimize your campaigns further, as well as scale them.
With its simple interface and the number of features this platform has, it certainly claims the best value award from all the other tracking platforms. It can pretty much do it all and do it affordably.
Key Features:
Automatic Campaign Optimization
Push notification alerts
Listicle tracking
Advanced tracking modes
Trend analysis tool
An Anti-Fraud Kit
Pricing: 37% discount for any plan for Gasmobi publishers
Discover: The pricing starts from an affordable $89 for the Discover package (Which includes basic tracking features and three months of data retention)
Profit: This plan best suits affiliate marketers looking for additional features. The plan has AI support, automation, and six months of data retention and is priced at $149 per month.
5. RedTrack
RedTrack surely has a user-friendly environment, and it's very easy to navigate through the platform with only a few minutes of practice.
On top of that - their support has been widely praised as being one of the best in the business, having very low wait times and prompt and competent resolutions to users' problems.
The support team is excellent and super diligent when setting up your campaigns. I have worked with numerous support members, and they have always given me stellar support, answering all questions and concerns promptly.
RedTrack is integrated with major ad networks, so we don't spend much time integrating the platforms we work with on a daily basis. It's a go-to solution if you need accurate traffic tracking and multi-level reporting on the performance of your campaigns. It's a universal tracking solution that is not the best in any particular field but does everything decently.
The support is also very quick and friendly.
Some Valuable Features To Know:
Some honourable mentions when it comes to the features RedTrack has.
Multi-access. It has multi-access so you can use your account from multiple workspaces.
Free Auto-optimization (usually charged in other tracking solutions)
New UI: The new UI the team has developed has certainly been a big improvement over the previous one and is quite user-intuitive.
Alerts and Automation: You can put various rules to change your campaigns on the fly, as well as set specific conditions upon which you will receive an alert so that you can react on the fly.
No time limits on data storage.
Great value for the available features
Pricing:
A trial for 14 days is free
The basic Affiliate package is $99,00
Advertiser packages start at $149,00
An agency plan can start at $99 and be tailored to your business needs.
So the choice is yours, there are multiple options to choose from, it just depends on your specific needs, although most of these trackers can do most of the required tracking needs adequately.