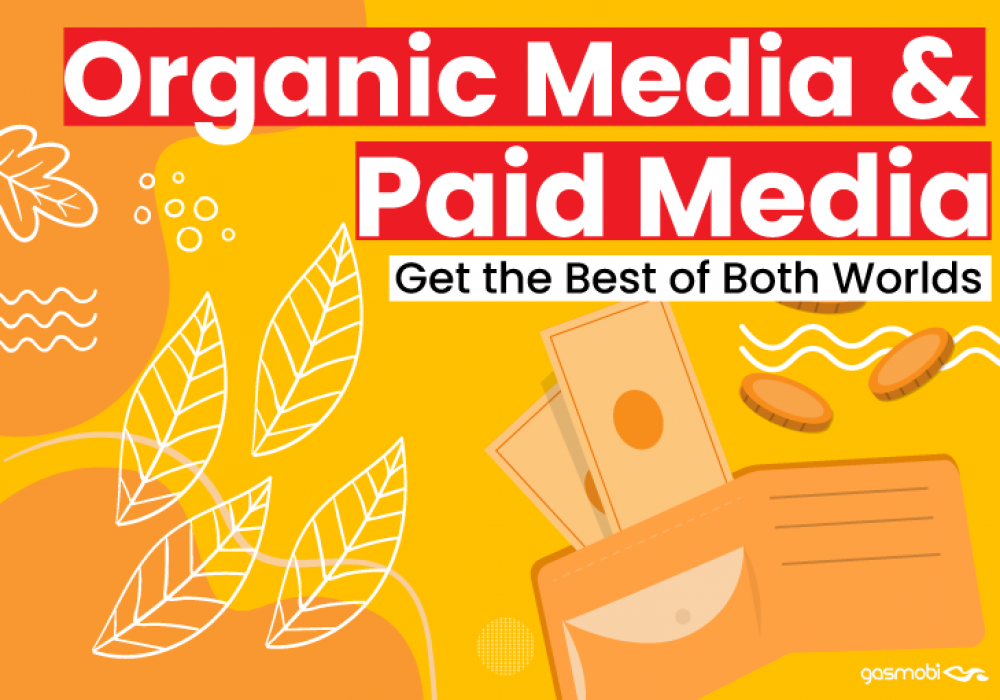 Organic Media and Paid Media: Get the Best of Both Worlds
If you're trying to expand your social media reach, you've probably used organic or paid social media. Many brands depend on one more than the other for their strategy.
But did anyone bother to stop and ask: "why not both?" Both social media tactics have benefits that will boost your reach. As a matter of fact, the most successful affiliate marketers use a combination to get to the top.
That's because both tactics have specific benefits the other can't get. Organic media helps build brand awareness, trustworthiness, and authority. On the other hand, paid media gives you the boost you need to be seen by the right audience.
Are you relying on one social media tactic more than the other? See where you stand with your social media strategy. You just might learn some new tricks to roll up your sleeve in 2022.
Be Relatable with Organic Media
Organic social media is all your free content. That includes posts, photos, videos, memes, and Stories we share on social media platforms.
Between organic media and paid media, we use organic media more often. It's a great way to introduce yourself to your audience in a fun and relatable way that makes people want to engage with you.
When you post organic media to your account, one of the most important things to monitor is your organic reach. That's the percentage of your followers that will end up seeing your content.
Here are some other ways people can see your organic social media posts:
Hashtags— if people follow hashtags you're using, they can find your content without following you

Follower interaction— by making relatable, shareable content, your followers may share your posts, exposing their followers to your content too
Organic social media has loads of benefits that increase individual and brand success. Let's take a look at how organic media can help you and your business!
Dazzle Followers with Your Personality
These days, corporate squares just don't cut it. Your business shouldn't appear as some intimidating, faceless entity. Your audience wants to see some of that humanity shine through your business.
The best way to show your brand's relatable side is to craft a unique voice that resonates with your target audience. It helps people get to know you as a brand and also what to expect from you.
Creating a brand voice is an excellent way to turn your social media presence into a novelty. By engaging people with intriguing content, you're giving them something to look forward to every time you post.
Participate with Your Audience
Who said you had to keep your distance from your audience while you figure out their needs? Get up close and personal with your followers and ask them directly with social media!
There's a lot of creative ways to interact with your followers. From open questions to polls, your audience will appreciate your interest in their needs. It's also a great way to get engagement and learn about your audience.
Lend a Helping Hand
Customers often use social media to ask brands for help with something. This is a wonderful way to engage with your audience and display your brand's dedication to customer service.
When your followers see how kind and helpful you are over social media, you create trustworthiness and authenticity that is simply irreplaceable.
The Downside to Organic Media
With all the major social media platforms using ranking algorithms, only a small percentage of your followers see your organic posts.
This has led to a heavy decline in organic media. Unfortunately, that means it's much more difficult for your brand's content to be seen by your own audience, which makes it even harder to get new traffic to your account.
This is where paid social media comes in.
Boost Your Content with Paid Media
Paid social media is a type of paid advertising. It's available in all the corresponding social media platforms like Facebook, Instagram, Linkedin, Twitter, TikTok and Youtube.
With the help of paid media, you rack up much more brand visibility, traffic, engagement, and conversion than organic social media. It also has advanced target tools you can use to create tailored content for your audience.
With all the benefits, paid social media is a no-brainer. The numbers reflect that. In 2022, the US alone is likely to spend around $63 billion. While much of that paid media is B2C, a whopping 83% of B2B brand marketers have shifted to paid media too.
Let's see what all the hubbub is about: including reasons, benefits, and examples of how to use paid social media.
Create brand awareness
New followers is the key to brand awareness and business growth. The first step is exposing your content to new audiences.
But before you post, it's crucial to create relevant, intriguing content that will make followers want to hear more from you. In fact, it's more important to find specific niches and take advantage of those needs. That's why it's important to hone in on your target demographics.
You don't need a massive following to be successful. When you have an effective strategy for a specific target audience, you cultivate a faithful following of engaged consumers that look forward to what you produce next.
That's more valuable than followers who don't engage or buy your products.
Take on Challenging and New Content
By creating content that's new or difficult to explain, you have a better chance of gaining followers because you're providing them with content they can't find anywhere else. Enhance clickability with a stylish infographic to help readers understand the material.
Gain New Leads
An important part of any paid media strategy is generating sales leads. Learning what your potential customers like helps you to create new, targeted content that will pique their interest.
Lead generation exposes your brand to a wide variety of new audiences you couldn't have reached if you were creating the same, one-note content. By getting an intimate knowledge of your target audience's core values, your new paid media content strategy will exponentially convert into sales.
Drive conversions and E-commerce Sales
Like lead generation, driving conversions is also sales-focused. By making an unforgettable impression the first time around, your brand has the chance to increase prospects down your sales funnel.
Merge Organic and Paid Social Media
The best way to run a successful social media brand presence is to use both organic and paid social media strategies.
While organic social media reach is declining, the benefits are irreplaceable. You can develop genuine relationships with potential customers, present yourself as a world-class brand, and let that unique brand voice dazzle your followers. Organic social media helps your company or organization engage in deeper, more meaningful ways than paid media.
Build an Integrated Organic and Paid Media Strategy
So now you know the benefits of each social media tactic. Now we'll apply that knowledge so you can create an integrated social media content strategy that'll make your brand soar.
Boost Highest-Performing Organic Posts
If you've created a solid organic post and it's already doing really well, boost it with paid media while you still have momentum! This is a great, genuine way to engage with new audiences.
You can easily boost organic posts on Facebook, Instagram and LinkedIn. It's intuitive and a wonderful way to grow your business.
Using your organic posts is also a way to measure and track your performance, so later you know what posts to create with paid media. Once you have a good idea of what works and what doesn't, you can build a bulletproof social media strategy.
Only Promote When Necessary
While it's always nice to get some exposure, you don't need to pay for every promo post. It's important to keep in mind the nature of each post and whether it's necessary to share it with followers or the whole world.
For example, if you need to make an important brand announcement, it's best to use organic media. It's more genuine and personal to reach out to your followers about your brand's updates versus telling new audiences who might not care as much.
This is a great way to strengthen your engagement with your followers and allow you to authentically interact with them.
Use A/B Testing to Optimize Your Posts
A/B testing, or A/B splitting, allows you to compare ads to see which version performs the best. It involves tweaking specific elements of your post at a time to ensure strong engagement and high performance.
Learn what your audience thinks by measuring their reactions, testing which demographics react most to your content, and what elements seem to draw them in the most before you pay to promote an ad.
For example, you can test whether Instagram Stories or Reels perform better with your audience and create new content knowing that information.
While you get to know your audience's interests, you also save a bit of money in the process!
Use retargeting
Turn engagement into conversion with retargeting. By embedding a small tracking tag in your web page, you can strategically position your ads on other websites and social networks to remind viewers of the products they engaged with.
It may seem like an unrealistic idea, but retargeting has secured an astounding amount of sales. According to Mailchimp, 97% of visitors leave your website without making a purchase. When you retarget, you increase sales up to 50%.
Complement Your Social Media Strategies
While boosting organic content is smart, there's more to the dance between paid and organic media. They need to be cohesive to create the seamless harmony any successful social media account exudes.
To strengthen both sides of your social media strategy, it's important to study the stats and data you cultivate from your paid and organic media posts. For instance, when you learn what content resonates with your target audience, you can post similar paid media ads crafted for similar audiences.
With the help of social media platforms, you can take a look at your lookalike audiences to optimize your ad creation. By basing entire audiences off your best customers, social media platforms build audiences with similar demographics and behaviors who don't know your brand yet.
Lighten Your Workload with Automation
Creating an integrated social media strategy is exhausting. Smoothen your workflow by automating as many social media processes as you can.
For example:
Use customized triggers to your advantage

Schedule organic posts

Streamline your copywriting and approval pipeline
Get your social media strategy right the first time. With these tips and tricks, you'll create a memorable and authentic social media presence while optimizing your workflow.