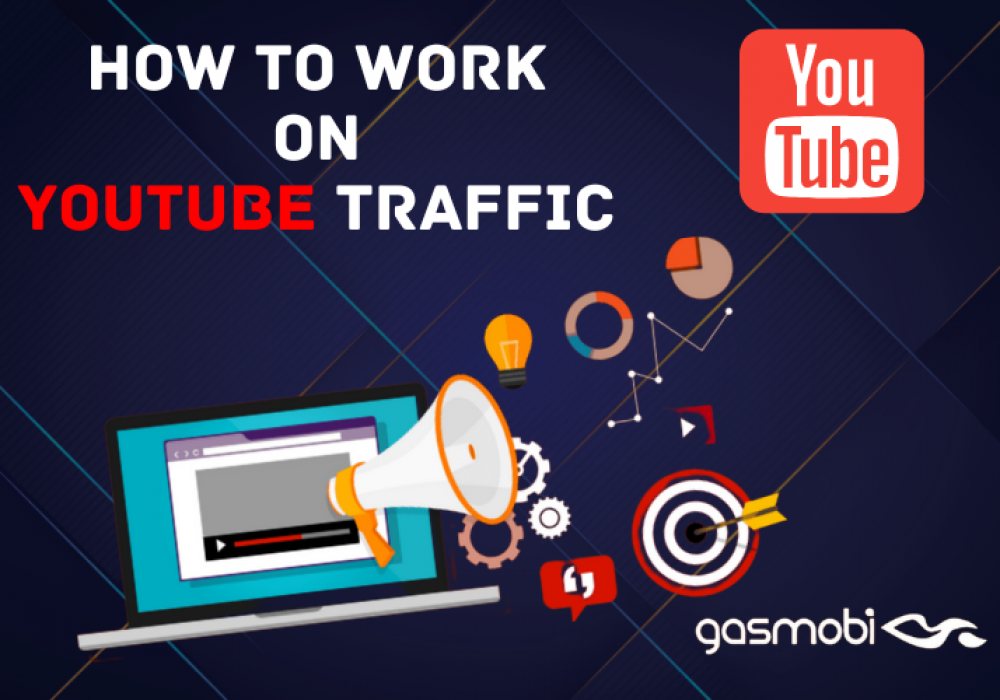 Scale Organic Traffic on YouTube
How to work on YouTube Traffic
How to use YouTube to generate organic traffic and ways to scale in 2023.
There is nothing that currently rivals YouTube in terms of video engagement on a daily basis. Knowing how to approach affiliate marketing on YouTube can bring massive amounts of high-quality organic traffic.

Reasons why working on generating YouTube traffic is a smart idea
When looking at the statistics, YouTube is currently a platform that has over 2 billion users worldwide. There are 100 million active users browsing the site on a daily basis, and YouTube is the second most visited website on the internet, being slightly behind the almighty king Google.
Users spend approximately a billion hours watching videos on YouTube every single day.
Seeing these numbers, it's clear that YouTube is surely one of the best platforms for advertisers to reach a huge and diverse audience.
When starting your journey of generating traffic, you have to have a clear goal, so identifying your target audience and what works best for it is an extremely important first step.
The next step is to identify the goals that you have in actionable strategies.
First things first are to have a constant stream of content. The more content you produce with more keywords you'll get more SERP placements. Researching and creating keyword-optimized content that will rank for target search queries is a must.
The infamous YouTube Algorithm and how does it work these days?
Being up-to-date with what the current YouTube Algorithm prefers is also extremely important.
YouTube's algorithm is based on three main objectives: the quality of the video, the engagement rate, and relevance.
In order to benchmark the relevance of a video, YouTube utilizes the pairing of title, description, tags, and the content of the video, then pairing it with an individualized search query.
Engagement is very important, and YouTube closely monitors various things, such as the watch time of the video, the frequency that the user views your videos, as well as general engagement, such as liking/disliking a video or posting a comment.
YouTube keeps a close eye on every channel's ability to demonstrate a trustable authority.
What's more, is that YouTube also takes into consideration such things as what the user has viewed before.
This is how it shows recommended videos that are far more likely to draw interest from the viewer catering to the types of videos the user has watched previously.
There are six locations on YouTube where a video can appear:
YouTube Homepage
Search Results
Trending Streams
Channel Subscriptions
Notifications
Recommended Streams
As is with all search algorithms these days, the ranking system is constantly changing the rules of what it deems important and what is less relevant.
Ways To Improve Organic Reach on YouTube
Let's dive in to see how the YouTube algorithm currently works. Harnessing this newfound knowledge should help to scale and generate more traffic.
Spend Time To Create Optimized Descriptions:
Really take your time researching and deciding what you put in your description.
Craft attention-getting descriptions that not only attract your audience but are also in tune with the keyword that you are using.
YouTube loves walls-of-text when it comes to descriptions, so don't be afraid to really go all-out in your description, but remember that the prospective visitor will most likely read only the first few lines, so make sure that they are impactful.
Closed Captions Should Always Be There
Not having closed captions can really hinder how much your videos are watched. Besides the fact that captioned videos can be viewed by someone with hearing problems, there are a ton of people who watch videos in silence for one reason or another.
Cross-Promoting can also make a considerable difference in the amount of traffic generated. Any social channel is a place where you can advertise your YouTube channel for free. Promote your channel on as many websites, social accounts, and e-mail lists as possible. It does make a positive impact.
What To Do To Increase Watch Time?
Knowing that YouTube ranks videos by how much engagement they get, the longer someone watches your video, the more opportunities to be included in the suggested videos section.
If you see that your viewers often close your video moments after opening it, you have to ensure that the first few seconds really count.
Helpful tips:
Matching the description of the video with the first few seconds;
Hook the viewer with something that's practically impossible-to-ignore;
Paying close attention to the audience retention graphs can pay great dividends, as these metrics tell you precisely what you need to improve in your videos.
Make Your Video Conclusions a Conversation
Ending your video with a controversial question or a bizarre statement can greatly help with further views from the user. Implementing a good tactic to direct your viewers to another of your videos increases the interaction rate, and it also greatly heightens the chances that the viewer will return to the channel in the future. This will satisfy the YouTube algorithms engagement part.
Click On The Subscribe Button and Notey Bell
Most YouTube channel creators are mostly running after the subscription count. When someone subscribes to your channel, you noticeably increase your organic reach.
The only way to increase your subscriber count is to make content that people are dying to see, with great content and consistency in posting.
It Is Most Definitely Easier Said Than Done
But you have to take your time, do your research, and make sure your videos are edited well. There is plenty of informational material out there on how to edit your video. The content itself, though, has to be good, so work on that the most. Sometimes it helps to create a trailer for your channel and then reach out to influencers if they want to collaborate to increase your exposure.
Being engaged with your video comment section is also an important part. A lot of creators make the mistake of not really reading on engaging with their video comments, but engaging with all of your video comments has proven to be an extremely effective technique to retain subscribers and increase engagement throughout the channel.
Using Metadata and Keywords Right
In a recently published blog post by YouTube, they've revealed that their algorithm takes the provided descriptions, captions, tags, and relevant keywords very seriously, and it actually matters a lot to have proper keywords and metadata.
Doing proper keyword research for the video is a crucial step, as that can be the make-or-brake moment of the video if the keywords aren't optimized. Luckily there are tools to help you find relevant keywords, there are too many to name, so Google is your friend.
How To Start YouTube Affiliate Marketing?
You need to do three things first.
Start by providing YouTube with all your information before uploading your first video so that they can connect you to your Adsense account.
Having monetization enabled should be your step, as that is what will allow the channel to generate income. It is important that you focus on a specific area of interest to base your videos on so that they cover a certain niche and don't derail some other niches all of a sudden.
By joining Google Adsense, you'll be getting plenty of additional benefits, such as the opportunity to promote the products and services of other companies. If your channel becomes popular enough, bigger brand and businesses will host their ads on your channel.
Conclusion
YouTube is a massive opportunity to generate a lot of quality organic traffic and turn those visitors into paying customers. All it takes is dedication and a lot of it, but it's well worth it in the end. And the scaling possibilities are like nowhere else, there's almost an endless supply of visitors.