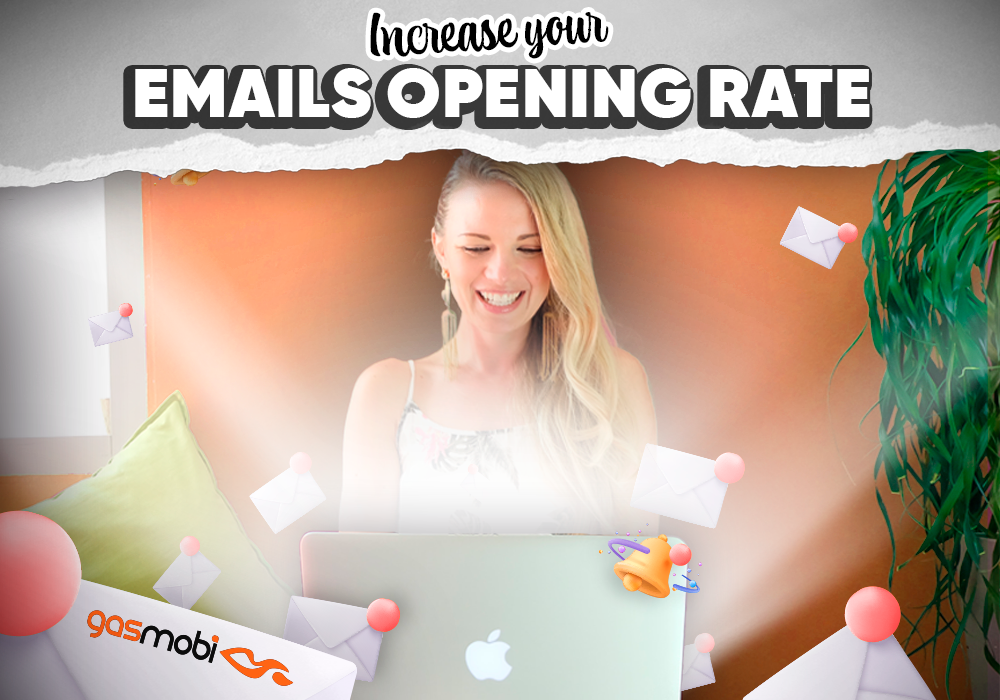 Increase your Email Opening rate
Email marketing Guide
One of the most important things when running an email marketing campaign is to have a good Opening rate for the emails that have been sent, and it's easy to land in the spam section even after doing everything by the book.
However, there are many ways to improve your open rate, so let's go over them.
Subject line optimization
This is the first thing that your subscribers see when they open their inbox, and it's vital to optimize it as much as possible. Split testing multiple subject lines that cover the niche that you're running from every angle will reveal the winning title.
Be unique yet effective with the subject line.

Here are some important tips:
Generate curiosity for your email recipients, making people curious enough so they open your email, but there's a fine line of being too mysterious with your subject line, which you should avoid.
Numbers attract attention among readers, so including some statistics in your subject line can really improve the opening rate.
Being fun and sending a conversational subject line that lightens your recipient's mood can work wonders.
There's also the tone and style of your subject line. If possible, research your subscriber lingo, so the text naturally resonates with them.
Another important tip that's often being overlooked is to not get too irrelevant with the subject line so that the recipients don't flag it as spam which would severely affect the sender's reputation.
Avoiding Spam Trigger In Your Subject Line
Spam filters continue to improve in how they vet incoming emails, yet it's still a common thing to land in the spam section, even with a legitimate message.
One of the most important things you have to do when running an email marketing campaign is to prevent being flagged as spam.
Here are some tips to avoid triggering spam filters and get your message into the inbox section:
Stay away from sales lingo and do not use words like "discount," "cash", or "buy" in your emails.
Make sure you're only sending emails to recipients who have opted for your mailing list.
Have a reputable IP address that the emails are sent from.
Send your emails from a verified domain.
Make sure your code for the message is clear and doesn't have any errors.
Don't use tactics such as bait-and-switch, which are deceptive.
Have a clear opt-out button in your email message.
Don't send your email with the subject line having all capital letters.
Don't use numerous exclamation marks such as !!!!!.
Make sure that the IP reputation is good. It has to be built slowly and messing this step up can completely ruin your domain's ability to send emails in the future. Remember to really take your time in building it. Go slow. Make sure to engage with clickers.
One important tip that you can use is shared IPs that have a high reputation already. It's possible to find services that can help you with that.
Never include images in your email until you've grown your reputation and it's high.
Increasing the opening rate:
Having a preview in your email for what the user can expect. An example of this could be "see who liked you" if it's a dating-related offer.
Services that help you increase your inbox rate and reputation:
MAILWARM
warm
This service has proven to work well. It allows you to increase your sender reputation and ensure that your email deliverability is high.
It allows you to warm up your email address so that you can send your emails in bulk.
When it comes to pricing, it has three plans:
Starter - $69, which has 50 emails per day.
Growth - $159, which allows for up to 200 emails per day.
Scale - $479 This package allows for up to 500 emails per day.
Enterprise - If the needs are larger, it's possible to discuss a custom plan for your business with them.
Pros:
It allows you to engage with a network of Mailwarm's own email addresses
It's possible to adjust your sending and reply schedule.
If you have the technical knowledge, it's easy to install via an SMTP setup.
Cons:
One of the more expensive options.
It can be problematic to set up if you haven't dealt with setting up SMTP for inboxes that way before.
LEMLIST
This service was one of the first to come on the market for email warmups.
It's pretty simple to use and you can decide on the number of emails you want to send daily. It also has the option to automatically send and reply to emails.
They have two pricing plans:
Essential for $29 - It has essential content email, DNS check, and deliverability score.
Smart for $49 - The same features as essential plus smart cluster, smart content email, and warm schedule.
Pros:
You can choose how many emails you want to send per day
Increase the volume of the emails sent automatically
They were the first on the market, so they have years of expertise in the field
Cons:
There have been reports from users that the auto warmer feature pauses without warning
The price is on the higher side
It has unnaturally looking email copy templates that might look suspicious to some inbox providers
WARMY
This service is best suited for teams with multiple email inboxes that need to be warmed up.
It uses an AI-based algorithm that automatically sends, receives, and replies to emails from your inbox that signal positive engagement. It also has a QuickMail deliverability report, allowing you to track the effectiveness of the emails that you've sent, and whether they are landing in the inbox with the major inbox providers such as Gmail, AOL, Outlook, and Zoho mail.
Pricing:
They have four plans to choose from.
Starter - $41/mo - This allows for 100 warm-up emails per day for a single mailbox and also has inbox placement tests and mailbox health tests.
Business - $108/mo - This allows for up to 300 warm-up emails per day and three mailboxes.
Premium - $158/mo - This plan is for up to 1000 warm-up emails per day and allows for up to 10 mailboxes.
Expert - $233/mo - The most expensive plan that includes 2000 emails per day, as well as up to 50 different mailboxes.
Enterprise - It's possible to contact the sales department for a unique solution if you need an even bigger plan.
Pros:
Excellent and responsive customer support
E-mail deliverability checker, allowing you to compare the performance across all major inbox providers
AI-based sending tools that allow you to quickly warm up your inbox
Cons:
Expensive
Lacks premade warm-up templates, so you have to make them yourself

Conclusion:
The benefits of email Marketing are huge
Email marketing is one of the most cost-effective and conversion-rich marketing methods. It helps small businesses reach new customers and grow their revenue on minimal budgets. It helps larger businesses generate leads and engage their customers at scale.