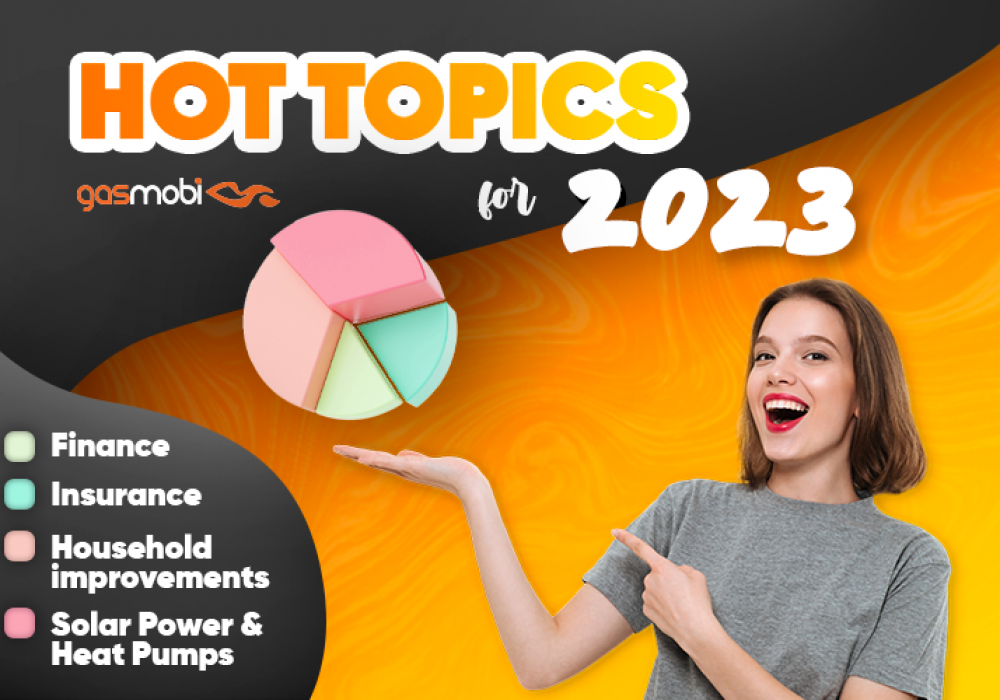 Hot topics for 2023
in Online Business
It's time to turn a new page and start looking for next year's upcoming business growth opportunities that the online marketing environment is bringing to the table!
Believe it or not, 2023 is shaping up to be an exciting year in the field of household improvements, finance, and insurance and you want to have a slice of the pie!
Start doing your research right now, as 2023 is right around the corner!
HOME IMPROVEMENTS
As a homeowner/renter, If you're moving forward with your remodeling plans despite economic conditions and some limited availability of materials and products, you're not alone. The vast majority of homeowners are proceeding with their planned home improvement projects in the face of inflation, supply chain issues, and other housing industry factors. More precisely, Moving into 2023, there are a few things that experts agreed will influence renovation trends. For example, the pandemic changed the way that people work and spend time at home and we can expect to see those changes reflected in the renovations homeowners prioritize in the New Year. Coupled with a rise in material costs and a sky-high housing market, experts predict that renovations focused on increasing comfort and functionality in the home will be big. With inflation still on the rise, homeowners are more likely to focus on small to medium projects, meant to upgrade their living space, like fixing a broken fence or repairing a burst pipe, or painting certain parts of the household, rather than buying a new property or building one.
ENERGY EFFICIENCY & INDEPENDENCE (SOLAR POWER & HEAT PUMPS)
Energy efficiency will be top of mind among homeowners in 2023, as they look to cut energy costs and make their homes more eco-friendly. With the Inflation Reduction Act passing this year, homeowners in the US will have an extra incentive to make energy-efficient home improvements in the New Year thanks to the Energy Efficiency Home Improvement Credit which will see eligible home improvements subsidized. With the installation of solar panels specifically covered under the Energy Efficiency Home Improvement Credit, experts agree that we can expect to see a huge shift toward solar energy in 2023. As we all know, the US is a trendsetter when it comes to socio-economic reforms, therefore, we can see many of the GEOs in the western world aligning with this tendency. All over, governments are starting to subsidize the transition to green energy, making this kind of project accessible to most of the citizens. Heat pumps are the fastest way to eliminate the use of fossil fuels to heat and cool your home, saving you money, preventing dangerous gas accidents, and avoiding the volatile prices of gas, oil, and propane that fuel traditional furnaces. Coupled with a solar panel system, they will provide a safe heaven in the rocky world of fossil fuel-derived energy prices.
Energy efficiency and independence are becoming increasingly important as concerns about the environment and energy security continue to grow. One way to improve energy efficiency and reduce reliance on traditional energy sources is through the use of solar power and heat pumps.
Solar power is a clean, renewable energy source that harnesses the energy of the sun to generate electricity. Solar panels, which are typically installed on rooftops or in open spaces, convert sunlight into electricity that can be used to power homes and businesses. Solar power is an increasingly popular choice for those looking to reduce their carbon footprint and energy bills.
Investing in solar power and heat pumps can help homeowners and businesses reduce their energy consumption and costs, while also helping to protect the environment. As the technology continues to advance and become more widely available, it is expected that more and more people will turn to these options to improve their energy efficiency and independence.
INSURANCE
Like it or not, the past 2 years have been a financial and emotional roller coaster for many. First, Covid 19 pandemic arrived, and now we are dealing with Ukraine – Russia war. During turbulent times like the ones we are going through, insurance is more stable than in other fields. That's because no matter the economy, people and businesses always need protection from risks and risks are something we are not short of. Add to the equation the ever-increasing technology field, especially the ease of access to good quality internet connection and seamless internet browsing experience, that makes access to insurance easier than ever, at the touch of a button and you are sure to end up with a winning field to be active in.
Now that you are informed about next year's hot topics, it's time to carve out the plan and start acting toward improving your online business model.