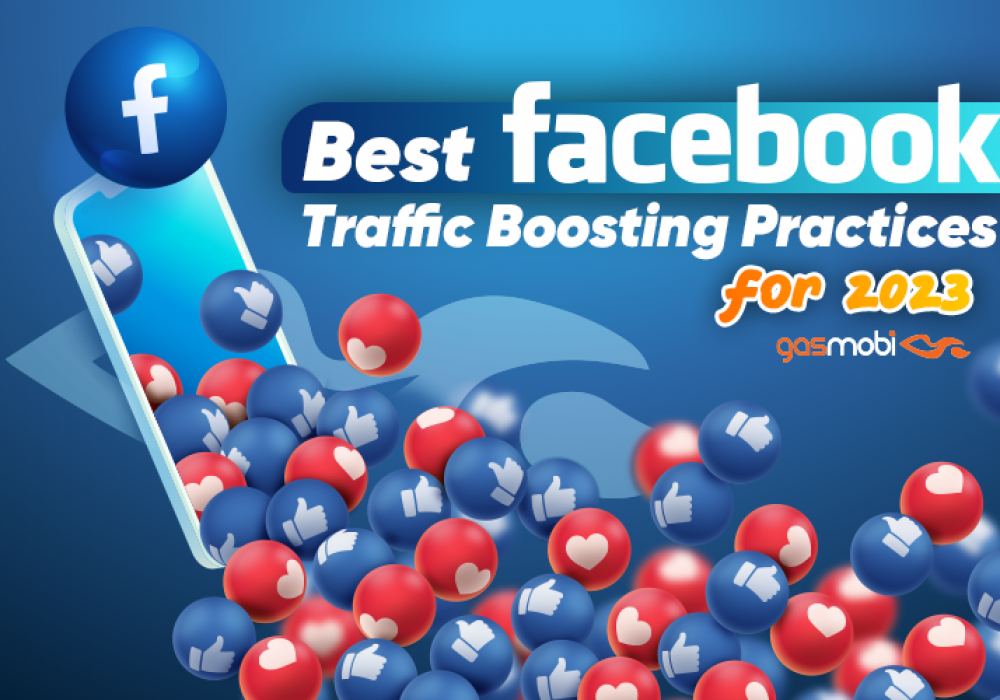 Best FB Traffic Boosting Practices for 2023
Which works best these days?
In this guide, we'll go over the things that work best these days, so hopefully, it will bring you some valuable insights. Let's start with the basics.

Well, 2023 is now here; it's quite fascinating how things have changed throughout the last decade. Facebook advertising is no different and has made dozens of changes throughout the years, so it's important to know what works and what doesn't these days for boosting traffic on Facebook. It's important to also keep yourself up to date on what verticals work best as time goes on.
Facebook Affiliate Marketing?
It means that you are leveraging the power of Facebook to get more traffic to your Facebook group or page, but it can also be an external website.
Every decent affiliate marketer knows that it is extremely important to get as much organic traffic from search engines such as Google, but when compared with Facebook Affiliate Marketing, it already has an in-built audience of more than 2.7 billion, making it the biggest social media platform by a mile.
So there is a lot of fish in the sea, and getting more traffic is almost always doable.
Here are some valuable up-to-date tips regarding FB advertising and boosting traffic in 2023:
One of the things that have made a massive leap in popularity when it comes to ad types is video ads.
Facebook's research shows that 60% of consumers prefer Video over reading texts or just listening.
It shouldn't come as a major surprise that Video ads have the best conversion rates, being above every other content platform.
Videos are also being prioritized over images, so video-based ads have the edge over regular Gif ads.
Valuable Advice when running Video Ads
Make sure that your video is optimized for mobile phones as well and looks good all around.
Insert links in your description box so that more people can learn about the product.
It's also a smart idea to include closed captioning or text overlays
Keep an eye on your keywords list. It can be very detrimental if too many keywords are used, so be careful and choose the ones that truly match your product.
Another method to amp up how fast you can gather data you can get someone's permission to use their Facebook account there as well, while you still continue running them on your main account, so this way you can run multiple Facebook ads, and it can also help you figure out which creatives work better, as well as which time frame is better.
Utilize A/B Testing in your campaigns so that you can see what performs better and optimize.
Make sure to implement a landing page instead of just sending the user to the website.
For your campaigns to have a fighting chance when running, it is paramount that you use high-quality landers. What a good landing page does is that it helps to convert visitors through its focus on the customer journey. The takeaway here is that by all means - use quality landing pages instead of sending traffic directly.
Take an honest look at your budget before starting.
In order to make campaigns profitable, you must first find out what works best, so there is no way around the fact that you will have to spend some money before revenue comes.
Now don't let this turn you off trying it, as it's possible to manage with smaller sums and still pull through. Make a very honest list where you understand just how much money you have to devote to this, as well as understand beforehand what type of campaigns and marketing goals you have.
These practices can also help boost traffic and are effective:
1. Using Influencers with huge active followings, this way you can get a considerable amount of clicks to your page.
2. Looking up an influencer these days isn't hard, and there's a good selection. If you're on a budget, it's more feasible to get a micro-influencer. But hiring an influencer that is related to your niche would be another huge benefit.
3. The most important thing for this method to work is that the influencers that are chosen are very relevant to your target audience. So make sure that all of your content is of high quality.
Organizing Facebook Contests
Competitions have long been one of the main core techniques which marketers have used, where a potential to win something for free to promote their affiliate products.
Open up a contest, pick a prize that has something to do with the whole niche, and post it on your Facebook page and in other groups that you can find.
Also, by asking your audience to sign up for your newsletter in order to qualify for joining the contest, you can get a lot of new subscribers.
Other extremely important aspects are:
Choosing the right aspect ratio when taking a picture or recording a video, as Facebook may not support some of those and decline your request to approve those ad placements.
Optimize Facebook Ad Placements
This is also an important step that makes a huge difference. There are plenty of things to choose from, such as Instagram, FB Messenger, Facebook Stories, and Facebook News Feed. Usually, the default setting when setting up a campaign is for all Facebook ad placements to be allowed, and in time, Facebook will optimize the campaign for you automatically, but this is a super costly way of doing it, and if your budget is not big then choosing only one or two of the placement locations would be a better idea.
Relevant Ads Are Still "Relevant"
You have to make sure that your Facebook ad campaign is as relevant as possible, as if you're constantly showing up for people who have no interest in the product, it can really leave your wallet empty.
Being Too Frugal is a No-No
Another common mistake that happens far too often is that people go too narrow in their Facebook ad targeting section. Although it is possible to segment down and filter even the smallest things, by making it super-laser targeted but very narrow, 8/10, you will be receiving barely any traffic. Better throw your Facebook ads to reach a slightly wider audience, and this could really impact the scale and performance of the campaign.

Conclusion
Apart from these tips to help you get your campaign afloat, also, keep reading and listening to what others are saying online and go a step forward. Make friends with people who are also doing FB marketing and share your knowledge with each other.