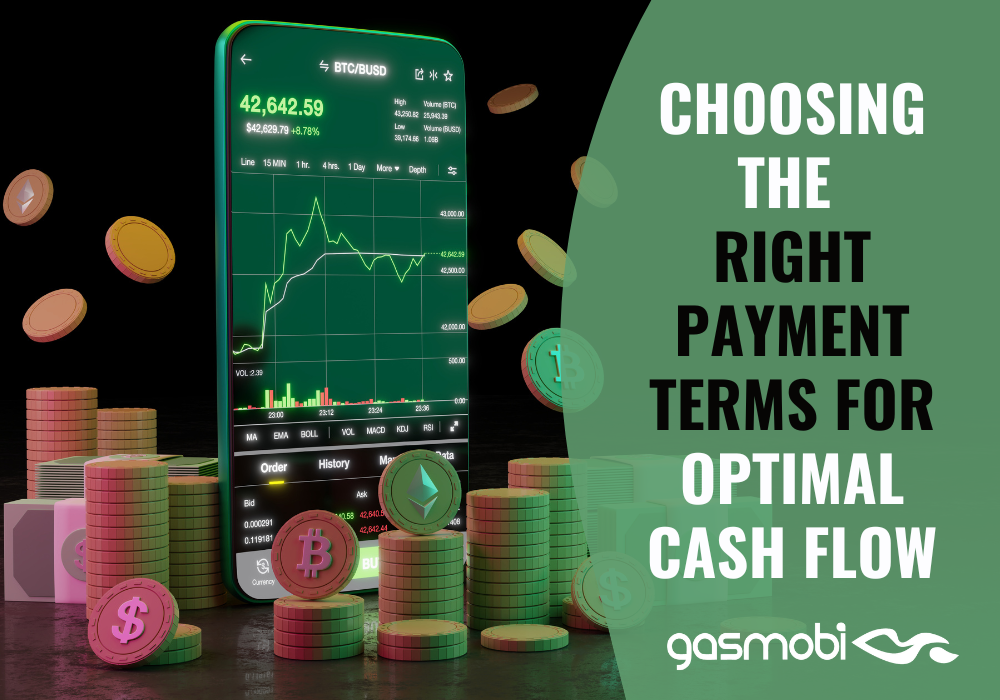 Choosing the Right Payment Terms for Optimal Cash Flow
In this article, we'll go over the various payment methods and terms that Gasmobi offers affiliates.
With diverse payment options, including Bank Transfer, Payoneer, PayPal, Webmoney, and Capitalist, affiliates can choose what suits them best. Payment terms ranging from Net-30 to Weekly are also discussed, emphasizing the availability of Weekly payments to consistent performers.
Payment Methods and Their Perks
At Gasmobi, we believe in providing our affiliates with flexible and convenient payment options. Therefore, we offer five different payment methods to ensure everyone finds what fits their needs.
Bank Transfer: Ideal for those who prefer traditional banking. It's secure and straightforward.
Payoneer: Globally recognized and accepted, it offers multi-currency support (perfect for international jet-setters in the affiliate world!).
PayPal: Renowned for its user-friendly interface and speedy transactions. Need we say more?
Webmoney: Praised for its high security and diverse financial services.
Capitalist: A new kid on the block offering low fees and exciting integration with various online platforms.
Each method has unique perks, so choose wisely or switch as you grow – we're flexible like that.
Choosing the Right Payment Terms for Optimal Cash Flow
Beyond payment methods, the flexibility of payment terms adds another layer of convenience for affiliates. Gasmobi offers multiple payment terms including Net-30, Net-15, Net-7, Bi-monthly, and Weekly. Each term has its own rhythm, allowing affiliates to choose what works best for their financial planning.
While some affiliates may appreciate the regularity of monthly payments under Net-30, others might opt for the quicker cash flow provided by Net-7 or even weekly payouts. For those eyeing weekly payouts, the key lies in consistency.
Advertisers who demonstrate a track record of effectively running campaigns and achieving conversions are often granted this privilege. This not only motivates affiliates to maintain high-performance standards but also solidifies their partnership with Gasmobi.
Unlocking Weekly Payments
One of the standout features of Gasmobi is our accommodating payment terms. Whether you're a seasoned affiliate or just starting, we have a schedule that fits your pace. Our terms include Net-30, Net-15, Net-7, Bi-monthly, and even Weekly for those who prove their consistent performance. You might think that getting Weekly payments is as rare as spotting a unicorn, but with Gasmobi, as long as an advertiser consistently runs campaigns and gets conversions, the mythical Weekly payments become a reality.
The Power of Choice in Payment Terms
With the following payment terms available, you have the power to select what best suits your cash flow:
Net-30: Great for those planning long-term and prefer a monthly payment cycle.
Net-15: Twice a month to keep things balanced.
Net-7: For those who like to keep things moving quickly.
Bi-monthly: It fits right in the middle like a well-timed dance step.
Weekly: Only for the determined affiliates who show consistency in their performance.
These flexible options ensure that your financial planning aligns with your business strategy.
Conclusion
Gasmobi's diverse payment methods and terms are a testament to our commitment to accommodating our affiliates' varying needs. Whether you prefer the old-school bank transfer or the trendy Capitalist, we've got you covered. And remember, Weekly payments aren't just a fairy tale; they can be your reality with consistent performance. So join us and discover a world where receiving your payouts is as enjoyable as earning them – and maybe even more fun!
With a payment palette like this, who wouldn't want to paint their affiliate success story with Gasmobi?