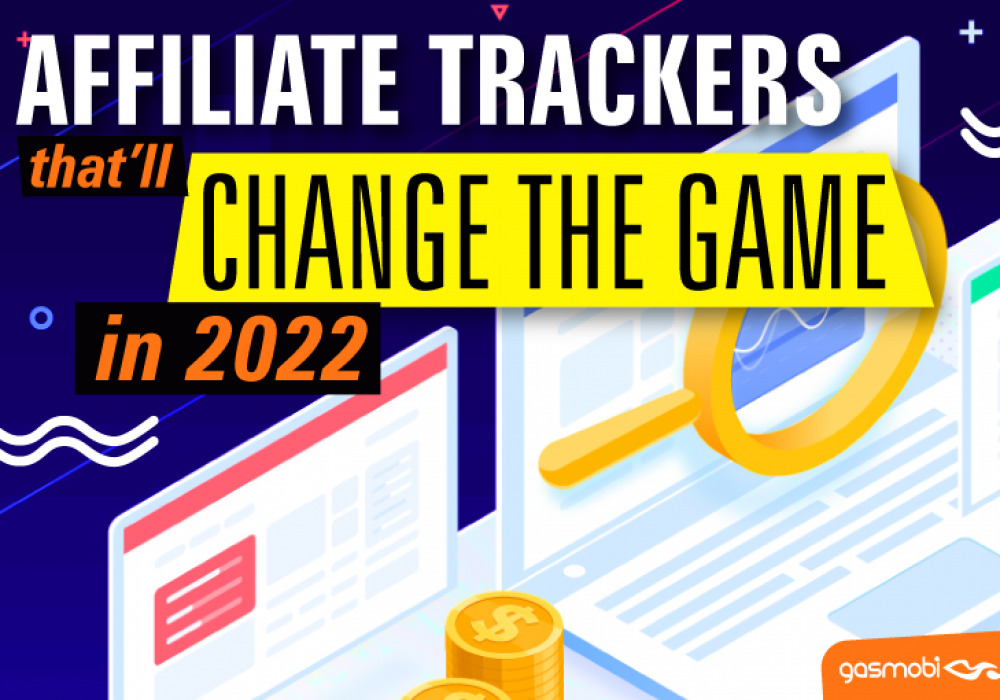 Affiliate Trackers that'll Change the Game in 2022
And How to Choose Which is Right for You
Let's be honest— there's a lot of moving parts when it comes to affiliate marketing. With all the different companies, tools, networks, influencers, and products doing multiple tasks at once, it's hard to keep your head straight!
Luckily, affiliate marketers have a trick up their sleeve— trackers.
If you're just starting out, a tracker might not be necessary because you're still building your campaign and don't have enough insights to measure. However, if you've launched an ad campaign or two and didn't get the impact you wanted, a tracker could do wonders for your business.
Every tracker is different. Depending on your business' needs, some will work better than others. That's why we went ahead and created this comprehensive guide on the best affiliate trackers so you choose which is right for you.
Let's get started!
Do you really need an affiliate tracker?
As we mentioned previously, if you're just dipping your toes in, you might not need a tracker. However, if you're getting serious about affiliate marketing, then tracking will be a key player in your success story. That's because trackers give you a detailed look at your traffic sources based on data. Having this valuable information will make your marketing strategies bulletproof.
Trackers are a necessary investment
Investing in a tracker might seem a bit intimidating at first. They're loaded with intricate features that can easily overwhelm if you don't know how to use them. Plus, they tend to put a dent in your wallet, especially if your budget is tight. But don't let these initial obstacles get in your way.
Trackers yield a great ROI. By investing in better trackers, you'll learn a great deal about your audience and how to create a campaign that truly resonates with them. This is all part of performance monitoring, the practice of researching, tracking, and verifying your web platforms to see how well they're doing.
When you have thorough research, you can create various advertisements and use A/B testing to see which campaigns get the best response. Testing for the best result is a necessary part of growing your business, and your tracker will play a crucial role in that process.
What's the best affiliate tracker for you?
Finding the right tracker for your business all depends on you and your business. The best way to put it is to think of volume. If you're a beginner, you might only have a few campaigns at a time. Meanwhile, larger agencies can run about over a hundred.
Whatever tracker you choose, the majority of them have multiple plans, which will allow you to expand your network when the time comes. So don't get worried about being stuck in one spot.
With that said, let's talk about the best features for beginner to intermediate affiliate marketers!
First thing's first— cloud-computing or self-hosted?
Ah, the classic debate— cloud-computing or self-hosting. As we said, this mostly depends on your preferences. To get a better idea, let's take a look at the advantages and disadvantages so you know which is best for you.
Self-hosting advantages: Because you're doing everything in-house, self-hosting cuts the cost dramatically compared to cloud computing. Since it's your own server, that also means you can run as much traffic as you want without having to pay extra.
Self-hosting disadvantages: If you decide to go for self-hosting software, then you have to take the time to set up and maintain it yourself. How you build your infrastructure will influence how accurate your tracking is— including measuring clicks and links.
Review: If you're not very tech-savvy, self-hosting might not be your best option. However, it is the more affordable choice. If you have experience working with servers and administering systems.
Cloud-computing advantages: Easy setup, so you can get to work almost instantly. No need to worry about infrastructure.
Cloud-computing disadvantages: It's more expensive to install. If you continue to grow, then you will have to pay overages and upgrades to plans.
What's the plan?
So you've got your hosting figured out. Great! Now you need to decide what type of plan you need. Don't be confused by the variety of names out there— affiliate trackers tend to go from basic to advance. (By advanced, we mean agency-level advanced!)
Keep in mind that you'll have to track more events per month if you're driving lots of traffic to your offers. A great option for beginners is finding a tracker that offers bonus free events.
Most importantly, before you buy a plan, you should evaluate your goals. Do you plan to make this your full time job? Do you have the budget to expand in the next few months? For those who are still learning the ropes, a free trial could be a great place to start. However, if you're a little more serious about affiliate marketing, you might want to choose a subscription that meets all your needs.
Don't forget about commission management
What's commission management? To put it simply, it'll help your business track all those little details that tell you about what happens between your business, sales reps, and customers.
So— besides tracking clicks, page visits, user behaviour, and data, you also get an intimate look at your commissions too. This is a key part of building a successful business; not only because it'll cut your time in half, but because you'll have smooth cost tracking due to strong traffic source integrations.
Beat the bots
Ah, bots. They might not be your worst enemy, but they're certainly pests when it comes to getting an accurate idea of your traffic sources. If you aren't careful, they can also get you in trouble with affiliate network bans.
To protect yourself from suspicious activity, make sure you invest in a tracker that has anti-fraud protection. It'll save you a load of headaches and pretty pennies.
Ask for help
Tracking software can be intimidating to anybody, even the experts. Technology is always changing and it's difficult to keep up with everything. That's why investing in a tracker that offers support is a must.
This is a fantastic option for beginners, but also the seasoned affiliate marketers who need help every now and then. Some trackers even offer live chat support, which is a real lifesaver! Another excellent feature some trackers have is their database of learning resources so you can get better faster.
The Best Trackers of 2022
Alright, affiliate marketers! You know what you're looking for, now let's find the right tracker for you!
AdsBridge
AdsBridge isn't your average tracker. Neither cloud nor self-hosted, this tracker is web-based. That means you get similar benefits to a cloud-based service as long as you're connected to the internet.
They also have their own smartlinks and help you build your landing page! Additional benefits include:
Customizable fraud detection
User-friendly HTML and landing page editor with beautiful templates
PPC effectiveness monitoring
Link rotator with auto-optimization features
Free plan with unlimited use of smartlinks and offers
Prices and free trials:
Each plan has a 14 day trial period. AdsBridge also offers a trial plan, which lets you use their smartlinks and is completely free. If you're ready for something more equipped, AdsBridge has plans ranging from $29 to $379 a month.
Gasmobi Template: YES
BeMob
BeMob is great cloud-based tracking software that is perfect for beginners because they offer a free plan. It's also very intuitive to use, so you won't have any trouble jumping into affiliate marketing!
Another thing that makes BeMob stand out from the rest is the 11 AWS regions that ensure speedy conversion tracking. They also have a customizable workspace, so you can organize and change however you like! Other benefits include:
Access to raw data and detailed reporting
Extensive teamwork solutions
Real-time tracking with or without redirects
Custom domains with SSL (and it's unlimited!)
Advanced tracking distribution rules
Offer, banner, and landing page tracking
Prices and Free Trials:
BeMob has a free plan, so there isn't exactly a free trial. If you want to take your business to the next step, you can purchase one of BeMob's more advanced plans, which range from $49 to $499.

Gasmobi Template: YES.

Binom
Binom is self-hosted but has irreplaceable benefits like quick-response customer support and no overage charges. That means your traffic can exponentially grow and you won't have to pay extra (if your server can handle it)!
Check out Binom's other amazing features:
Fraud detection
Thorough insights and customizable reports
Fully flexible commission management system
Instant support that'll help you with your set-up and monitoring
Custom events
Free trials and pricing:
Binom allows all their customers to have a 2-week free trial period. After that, you can buy their license for $99 monthly or at $69/month if you decide to commit to a year. They also offer additional licenses for $49 each! Plus, you get that famous 24/7 customer support for free.

Gasmobi Template: YES.

Super Deal for Gasmobi's publishers: signup and get FREE 30 days of tracker's full version use, without providing any payment details + 40% discount with the Promo Code GASMOBI

CPV Lab Pro
PV Lab Pro, like RedTrack, gets lots of praise for making improvements based on customer comments. The main difference between them is that CPV Lab Pro is self-hosted. They also have great customer service.
Whether self-hosting is right for you, CPV Lab Pro has a quick and simple setup everyone loves. More benefits include:
● Automatic tracking (with or without cookies)
35+ Mobile Data points to track and optimize campaign performance
Intuitive setup wizard
Flexible tracking and optimizing across multiple traffic sources
Self-hosted benefit: no limits or overages
Several integrations for affiliate programs, networks, and traffic sources
Prices and Free Trials:
CPV Lab Pro offers a 14-day free trial of the Pro version that would normally cost $59 per month. Their plans range from $28 to $63 per month, which is definitely one of the most affordable options.

Gasmobi Template: NO

FunnelFlux
FunnelFlux is a powerful reporting affiliate engine that helps you monitor, filter, and find the most profit-making traffic segments (e.g squeeze pages, CPA, and landing pages) thus minimizing the cost of figuring out the ones that are not worth investing in.
Some of the benefits are:
Visual Funnel Builder
Powerful Reporting Engine
Funnel Heatmaps
Multi-user support
Lifetime value tracking
Email Opt-in Conversion Tracking
Prices and free trials:
The starting price is $99/license/mo. But…
FunnelFlux offers a great discount deal that other tools can't dare to imitate. It lets you try its services at just $1 for one month with no extra charges or hidden fees. Even you'll be given a $75 coupon if you're a BloggingX reader and you sign up for the Managed subscription. Apart from that, you'll receive a 10% lifetime monthly discount with a self-hosted FunnelFlux subscription.

Super Deal for Gasmobi's publishers: 50% discount for the 1st month!
Gasmobi Template: YES

LandingTrack
LandingTrack is what some call a one-stop-shop. Not only is it an excellent cloud-based tracker, but it also auto-optimizes so you can rest easy!
LandingTrack isn't just an affiliate management tool and optimizer. That's right, it's a triple threat because it has the highest data and cost accuracy tracking available! Other benefits include:
Remote campaign management
Integrated with the industry's biggest affiliate networks and traffic sources
Live campaign analytics
Anti-fraud solutions
2-year data history
Custom domains
High free ad spend limit for integrated sources
Prices and free trials:
LandingTrack offers a 15-day free trial. Plans vary between $49 to $449. This may seem a little steep compared to some of the other trackers, but remember— it's a triple threat!

Gasmobi Template: NO

RedTrack
If you're looking for a cloud-based tracker that's perfect for teams and agencies, RedTrack is the choice for you. It's also a terrific choice for individual marketers who are handling several campaigns.
RedTrack is a wonderful tracker because they listen to their customers and build the software according to what their clients love. Some of their best features include:
Multi-account traffic source integration
Live fraud detection
User-friendly interface
Auto-optimization algorithms
Multi-currency commission management
Customizable workspace
Redirectless link tracking & various integrations
RedTrack has many pricing plans with a varied number of features. The Basic plan starts at $49 per month, the Pro plan $99, the Team plan $199 and the advanced
Prices and Free Trials:
RedTrack gives you a 14-day free trial. If you decide they're the one for you, their team plan starts at $249. They also offer custom plans to create a tracker tailor-made for your business!

Gasmobi Template: YES.
ThriveTracker
ThriveTracker is a wildcard compared to the others on this list. You can choose between cloud or self-hosted. They also have a unique payment plan, represented by a clickable sliding scale. Depending on how many clicks you'll drive to your links, you'll pay more or less!
ThriveTracker also offers all these fantastic benefits:
Multi set up for landing pages
Fraud and bot detection
Domain control & traffic filtering
Campaign auto-scaling and AI optimization
Speedy redirects
9 AWS hosting regions
Prices and Free Trials:
ThriveTracker offers a 14-day free trial. As we've mentioned, their nifty slider shows you the price you'll pay based on how many clicks you need to track per month. There are also a few plans that start at $39 and go up to $899. You can also make a custom plan!

Super Deal for Gasmobi's publishers: Promo code: "GASMOBI20" can be inserted on the last step, for a 20% discount in the first 12 months

Gasmobi Template: YES.

Voluum
Voluum has already made quite the name for itself. Having already won several awards for "Best Tracker," this popular cloud-hosted tracker is integrated with a large number of high authority traffic sources, including Google Ads, Facebook, and Zeropark.
They offer a variety of plans, so you're bound to find one that fits you best. They'll also match the price of your current tracker if you're thinking of making a change. Don't believe us? Check out the reviews. In the meantime, we've listed their jaw-dropping benefits below:
Live reporting with instant access to data
Excellent anti-fraud solutions
No downtime since 2015
7 AWS hosting regions
Traffic source integrations with auto-rules, custom alerts, and more
Auto-optimized campaigns
Affiliate team-friendly collaboration tools
2-year data history and custom domains
Various tracking options with or without redirects
Prices and Trials:
Voluum doesn't offer a free trial, but you can receive a 7-day demo. Plans range between 75$ to 359$ a month. They also offer custom plans!

Gasmobi Template: YES.

Super Deal for Gasmobi's publishers: claim up to 37% off Voluum!

WeCanTrack
We Can Track will track your sites; sessions, clicks and conversions and will match this to the right visitor within Google Analytics. This is only possible by making use of SubIDs. Those will append to your affiliate urls with unique SubIDs automatically. In case you're worried. This will not mess up your affiliate URLs; because in the neglectable change of the servers going down, the appending of SubIDs in your affiliate URLs will change back to normal. So no revenue can be lost. We Can Track's JavaScript snippet, WordPress plugin or API connection will make these necessary adjustments on your affiliate links. Your conversion data will be frequently fetched by accessing the affiliate networks with your accounts API credentials.
Some of the benefits are:
Well protected database and servers
Your data is encrypted
NDA and DPA compliant
GDPR compliant
Quick and easy installation
No developers needed
Prices and free trials:
The great thing about We Can Track is you can join free, so the least you can do is to sign up now and give it a try. A free member is allowed to have 5 data source, 50 transactions, 2,000 clicks and 8,000 sessions per month, which is sufficient for you if you are a brand new affiliate marketer. As you sign up with multiple affiliate networks, you can move to one of the premium options. The payment option can be chosen in USD or Euro.
Small Affiliate - $60 or €50 per month
Medium Affiliate - $120 or €100 per month
Advanced Affiliate - $240 or €200 per month

Gasmobi Template: YES
Update Wars
Remember how we said bots weren't the biggest enemy to affiliate marketers? You probably wondered what it could possibly be. Well, we're here to tell you they're much more common and much more difficult to curb. Updates.
Whether it's Chrome, Mac OS, Android— whatever browser or OS you're using, updates always switch up the game for affiliate marketers because they change the rules of the game itself. So when a new update is announced, affiliate marketers often ask themselves:
How will the Google Privacy Sandbox affect my business?
Will iOs 14 hurt my traffic?
Is 3rd party cookie tracking a thing of the past?
You're right to ask such questions. Browsers and OS companies like Apple and Google are working hard to create a more private internet experience, which will absolutely affect your business if your tracker doesn't stay on top.
As 3rd party cookies and additional redirects are becoming less relevant, trackers have to get creative and innovate new ways to track while still playing by the rules. That's why we stress the importance of investing in an effective tracker. They learn all the ins and outs of a constantly changing industry so you can focus on your business.
Other Marketing Tools that'll Lead to Your Success
Alright— so trackers are a no-brainer when it comes to affiliate marketing. You have campaigns, you've gathered data from them, and bam! Instant money, right? Well, sort of.
Obviously, trackers play a big part in your affiliate marketing business. You'll make a profit now that you have valuable information about your campaigns, but what if we told you that you could go even further in your success?
The big dogs use all sorts of tools to boost their conversion rates. Among them, the two key players are landing page builders and spy tools. Why?
Spy tools allow you to stay on top of trends. By gaining insights into high performing ads and offers, the research you extract can be applied to the content of your landing pages.
Now that you've got enticing content for your landing page, you can use your landing page builder to create an attractive page that shines from the rest. Of course, many affiliate programs offer the same service, but these templates are used by thousands of others, which could make your business look like everyone else.
If you have room in your budget, there are even more tools and services to help your business soar. Copywriters, image editors, SEO tools, hosting services, and auto-optimization software are just a few ways you can enhance your performance.
It Takes a Village
To be a successful affiliate marketer, you can't do it alone. There's performance marketing software out there to get you off your feet, but everybody needs external input to create a strong, dynamic business. We suggest focusing on your particular skills and handing off the difficult stuff to others.
For example, if you're tech-savvy, then a self-hosted tracker could be an excellent choice for you. But if you find that you're spreading yourself too thin, you might need to hand off the task to an employee or change to a cloud-based solution.
Keep your eyes on the prize— your advertised product or service, your traffic, and that sweet conversion rate. Let your tracker, tools, and employees help you with the rest.
The best way to get there? With your bulletproof strategy, you created your tracker's data. So get out there and start tracking!