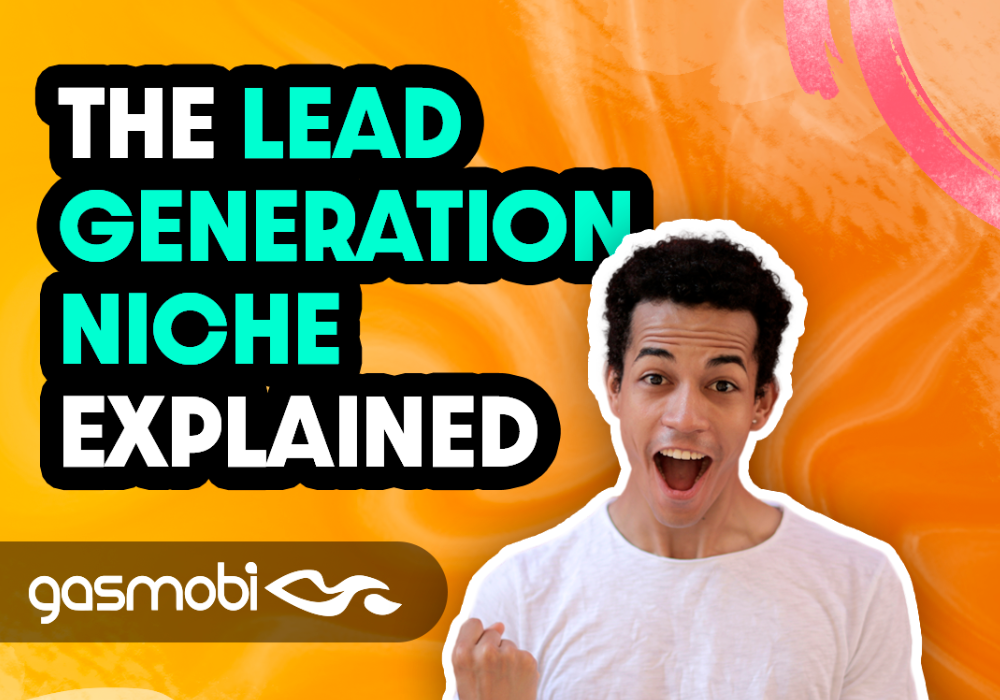 The Lead Generation Niche Explained (2022)
What exactly is Lead Gen, and how does it work?
Lead Gen is the process by which a business gets in touch with potential customers and converts them to paying customers. With the rise in the popularity of the internet, lead generation has become one of the, if not the most, important aspects of many businesses. When the term lead gen is used in online marketing, it usually means the collection of a visitor's contact information (a lead) via a landing page. For example, a landing page could have such fields as "zip code," "tax identification number," "monthly income," "monthly electrical bill," and many other parameters based on the specific lead gen offer.
Lead generation is a massive part of many companies' sales funnel because the products that they are offering can cost thousands of dollars. By acquiring new leads, it allows businesses to slowly educate ad "nurture" the potential client through various means such as email marketing and phone calls and making sure that the lead is qualified for the offer through a phone call.
Call centers are a big part of the Lead Gen niche, as the final sale usually happens through a phone call after making sure that the lead is qualified. It is also important to remember that call centers operate just like any other line of work and follow their respective country's holidays, including national holidays.
Running a Lead Gen campaign
In order to successfully generate a lead, there has to be a well-defined strategy, and knowing precisely what the target audience for that offer becomes extremely important.
Lead generation can be done from both offline and online sources. When done online, the usual routes are social media advertising campaigns, email marketing campaigns, search engine optimization, and native ad campaigns.
There are many benefits to running lead gen offers, such as:
Lead Gen assures a high conversion rate because people who provide their information to you are interested in your services or products!
Lead Gen, compared to other forms of marketing such as Radio or TV commercials, requires considerably less funding.
When you're running a lead gen campaign, it's always laser-focused on targeting the precise consumers that your offer demands, such as demographics, interests, geographical location, etc.
Potential Long-Term Relationship
Lead Gen offers provide the potential to get in touch with potential clients and build long-term relationships because if someone leaves their contact information, it is much more likely that they will become a paying customer in the future.
Types of Lead Gen Offers
Real Estate Offers
Fast Money (Loans)
Medical Tests
Senior & Assisted Care
Education/Career upgrade options subsided by Government (CPF in France, STAP-budget in the Netherlands, etc)

Education
For professional courses, colleges and universities don't pay commissions if you refer to students. However, they do pay for qualified leads. With the prices colleges and universities charge for tuition and all the extras that are included (housing, food, books), students are a highly profitable business, and affiliate leads in this niche have typically high commissions. However, when running CPF specifically, there is an important tip that the student database doesn't perform well. Try to buy elder people, 25+ at least, to make it work!
Legal Cases
We all know lawyers charge ludicrous rates for their legal services. Competition is stiff. Law firms of all types and forms are often ready to pay fat fees to potential clients. Email and Facebook traffic work the best here.

Insurance
Whether it's for auto, home, life, health, or even a small business, the insurance industry thrives on generating qualified leads. Since the insurance market is such a profitable financial niche, many businesses are willing to pay top dollar for quality (targeted) leads. Get your native accounts or email database ready before Q4 - the hottest season for Insurance leads buyers.
Home Repair
Have you ever tried to find a home repair or remodeling contractor? If so, you've probably been pressured into entering your name, address, and type of service you are up for. This information of yours is being monetized by referring you to select contractors who are eager to pay just to contact you and offer their services. To increase CR and EPC try to buy or target homeowners and 25+ so they are really interested in making their own homes a better place.
Solar Panels
The increase in the number of solar panels being installed in homes all around the world has been unfathomable. Solar panel offers are definitely something to look out for as they are only going to get more traction in the future. When people see the savings to their electricity bill in the long run, they are often eager to jump on the offer. To have your CR stable always keep an eye on ZIP departments that are allowed on the offer in each specific period. This niche is super aligned with holidays, that's why it is important to be prepared to decrease volumes or to see a lower EPC. Don't be upset, just accept it!

Best Traffic Channels
Email
Email is a cornerstone of many lead generation strategies. Email can deliver relationship-building communication at every stage of the funnel. It can be equally as effective for converting fresh leads into new customers as it can be for making existing customers aware of new products or upgrades that can increase their lifetime value.
There are multiple ways of promoting lead-gen offers.
Search Engine Traffic
The main benefit of search engine marketing (SEM) for lead generation is that the customers that are searching have a degree of intent. They are actively searching for a product similar to yours or for a solution to a particular problem that you can solve. There are two ways to succeed with SEM — via organic listings or paid search. If you can rank well organically for the queries that are important to your target audience, you can gain zero-cost traffic. But this can take a long time and a lot of investment. With paid search, you can enter an auction to appear every time a user searches for a particular term. Paid search is more immediate but can be costly.
Social Media
Such platforms as Facebook have particular lead ads that allow you to collect information from people that view your ad. This is an effective way to reach a wide audience. A similar solution that is more tailored to B2B lead generation, LinkedIn can really come in handy as it has various Lead Gen Forms. Not all lead generation on social media sites needs to be paid. It's also possible to be successful with lead generation when having an organic conversation with your audience.
Content Marketing
Creating thought leadership content that demonstrates that you have a clear understanding of your customer, their needs, and problems, and have a solution that can help them is often an important part of a successful lead generation strategy. This type of content you might post on your business blog or promote through social media.
Paid Advertising
Launching well-targeted campaigns via native ads or many other verticals is definitely a lucrative route to go. When you really dial in the targeting settings it can be extremely rewarding. There are so many traffic sources out there.
Landing Page Examples

6266 - NO - AXO LOANS - CREATIVES APPROVAL -$80.00 / lead
Loan offer 15EUR per Conversion
VERGLEICHS GURU - HOUSING LEAD GEN [DE] (EMAIL) - CPL
€35.00 / cpa
Payouts

The usual payouts are different based on the type of lead gen offer that is being run.
Some of the average payouts based on the niche:
Home Improvement
Home improvement lead gen offers can have a variety of payouts but they are usually about $15-30.
Legal Cases
These can also reach the $20-30 range per lead, depending on the offer.
Insurance
These can be as high as $20 for some offers.
Education
These can go from $3-20 per lead.
Real Estate Offers
The payout for these can also range quite a bit from $15-100 per lead.
Solar Panels
These are usually about $12-20 per lead.
Senior & Assisted Care
These can range anywhere between $50-120 per lead.
Loans & Fast Money
These can range anywhere from $40-100 per lead or upwards of $1000 for Crypto related offers.

Conclusion
Lead Generation offers, and the LeadGen industry as a whole is a fast-paced environment. It's constantly changing as technology continues to update, and there's a shift in consumer trends. There will be even more changes in the future, and the best approach would be to keep an open eye on any emerging trends that might be becoming popular and try to find offers for them early on to be on the bandwagon before others and reap the benefits.